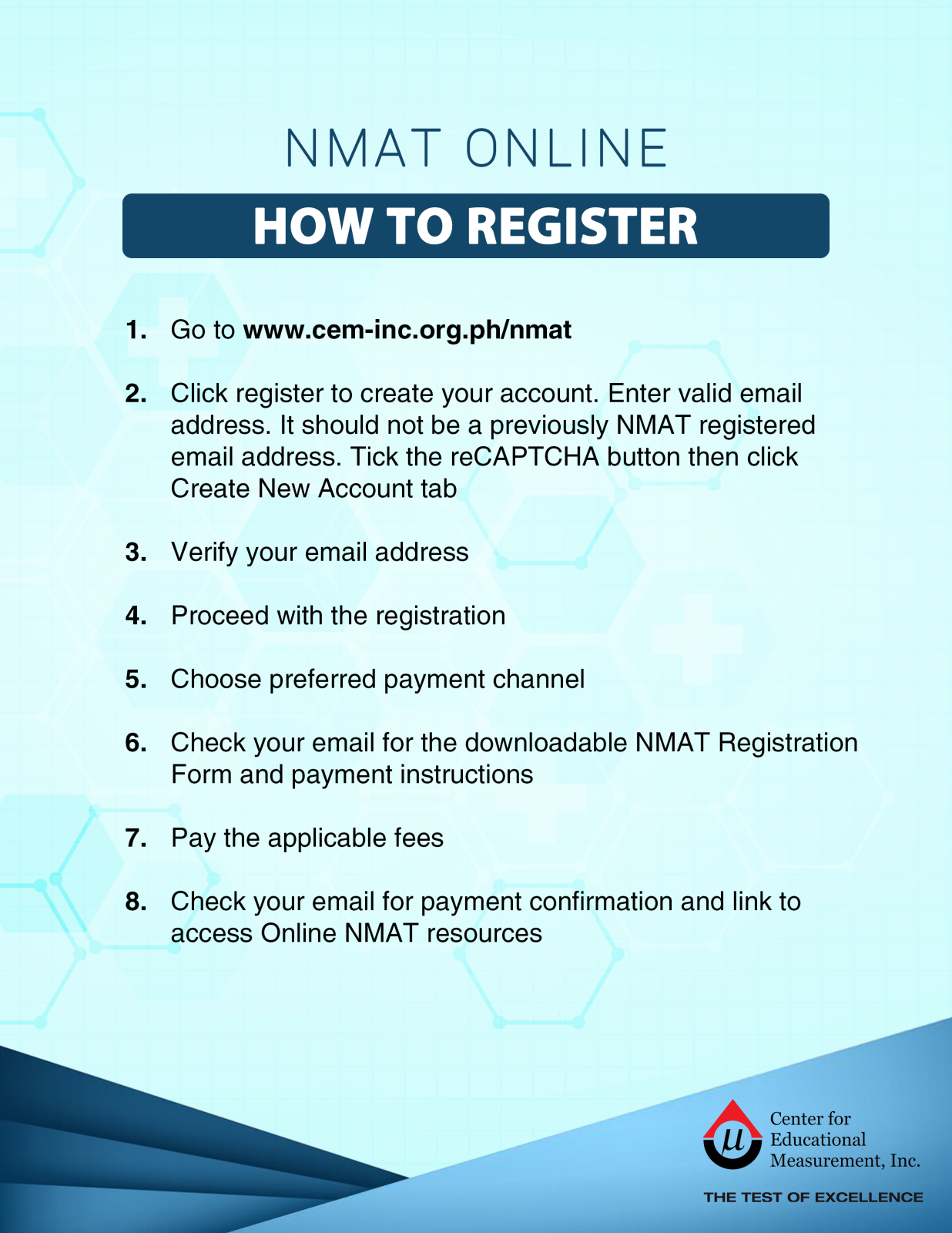 GUIDELINES FOR THE ONLINE NMAT REGISTRATION
1. Should an examinee with an existing account wish to take the NMAT again, he/she needs to create a new account using a new email address.
2. Multiple test dates are made available to provide options to candidates that best match their schedules. However, the number of candidates that can be accommodated per day is limited. Send your application and complete payment as early as possible in order to secure the test schedule that best suits you. You may register to only one test date for the January 2021 test cycle.
3. Resources for taking the Online NMAT will be available in your Registration Account as soon as payment is completed. Access the "View Status/Downloads" for the following: System Compatibility Check Link, Practice Test, Candidate Online Assessment Guide, Video Tutorials, Demo Test Link.
4. Payments will be channeled through the Dragonpay facility, which offers contactless payment options. Applicable service fees will be charged on top of your registration and testing fee. All fees must be paid before the deadline stated in your payment instructions. For your reference, please see the payment facilities available through Dragonpay.
5. Please be advised that credit card payment option is NOT available for the January Online NMAT. If you need additional information, you may contact the NMAT Secretariat.
6. Starting January 2021, the Online NMAT will no longer have a digital scratch pad. Examinees may usea a small white board with whiteboard pen (or other easily erasable writing materials) for their scratch work.
7. Candidates are reminded to review the guidelines in navigating the online testing website. Written guidelines and a video tutorial will be available in your registration accounts once payment is complete. Candidate errors such as prematurely exiting a section of the test or exiting the entire test by mistake will not be considered valid reasons for retaking the test. Read all warning messages carefully before proceeding.
____________________________________________________________________________
____________________________________________________________________________
IMPORTANT: ONLINE NMAT INFORMATION
The online NMAT will still be a timed and supervised test. Live proctors and AI-powered systems will monitor the conduct of the examinations. To take the test, you will need:
1. A quiet room where you can take the exam alone, free of distractions
2. Laptop or desktop computer with Windows Operating System. To check if your computer is compatible with the Online Testing Website, click on the System Compatibility Check link: https://tests.mettl.com/system-check?i=26xd4hzgn4. Make sure that you use the link to check your computer's system.
3. Working webcam (either built-in or separate from your desktop or laptop computer)
4. Stable internet connection with speed of at least 512 kbps
5. Secure exam browser (link to be provided). This is an application you will need to download and install on your computer to be able to take the exam securely. You will not be able to access the test without this application. This application will be available for download when you conduct the compatibility check for your computer.
6. NEW! Starting January 2021, the Online NMAT will no longer have a digital scratch pad. Examinees may use a small whiteboard with whiteboard pen (or other easily erasable writing materials) instead of the digital scratch pad.
Use of scratch papers or any external, connected devices such as USB, additional monitor, extended keyboards, writing tablets, a touchscreen stylus, or any other similar on-screen writing devices will NOT be allowed.
Review the Candidate Online Assessment Guide for more information on other requirements for taking the test.
_______________________________________________
The Center for Educational Measurement, Inc. (CEM) has been commissioned since 1985 by the Commission on Higher Education (CHED) through its Technical Committee for Medical Education, to develop and administer the National Medical Admission Test (NMAT).